It allows you to practice anyytime anywhere without dragging along your real heavy guitar!
Do you always find yourself strumming an imaginary guitar whenever you hear a song? Or do you always want to practice your guitar skills but can't bring your guitar everywhere?
No worries! We made it a lot easier for you! This Pocket Guitar Trainer provides you the genuine guitar playing experience you need! At Last! A handy and useful pocket guitar that allows you to practice anytime, anywhere without dragging along your real heavy guitar!
Practice guitar is now easier than ever – Designed to mimic a real guitar to help you practice your chord skills fast and easy. Built with real mahogany effect fretboard, with 6 frets. An ideal trainer for practicing scales, chords, and riffs, building the finger memory and also toughening up the fingers. It is an ideal product for both amateurs and passionate guitar players.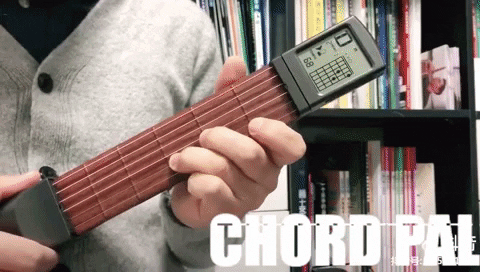 The device is small and portable. It is just the right size to store in your backpack or pouch and allows you to practice on the bus, in a taxi, in your lunch break at work - virtually anywhere!

The screen of the trainer can be easily twisted. This means that all beginners will easily remember chords and practice the finger movement. Also, the metronome is allowing you to set the tempo of your learning.

The trainer features real steel strings. This means that you will learn how to set the tension of the strings as well. Even though you are playing the trainer, you are still building calluses. Steel strings can be removed, replaced, loosened or tightened as required.
Practice silently then rock loudly with the Pocket Guitar Trainer! Improving guitar skills made a lot easier for you!
Features:
PORTABLE GUITAR: It's convenient to carry and the digital version is a quiet practice tool without sound.That you can practice anytime.
GENUINE STRINGS: Equipped with genuine guitar steel strings help guitar learners to getting muscle memory, and the tension of the strings can be adjusted.
CHORD CHART DISPLAY: This pocket guitar has a chord display function that you can correct your mistakes in time.
WITH METRONOME: There is a metronome inside the device that learners can learn any chords rhythm at will.
How to Use:

1: Press A for 2 seconds to open, and another 2 seconds to shut down
2: Press B for 2 seconds, you can switch between Chord table mode and Circulation mode.
3: When it is in Chord table mode, area display of chord name and display of fingering chart in light, area display of metronome and chords number in darkness.
4: When it is in circulation mode, Area display of chord name and display of fingering chart all in light.

Specifications:
Digital Pocket Guitar (with Screen):

Length: 19 inch (opened), 11.2 inch (closed)
Acoustic Pocket Guitar:

Length: 13.2 inch (opened), 7.7 inch (closed)
Package included:
1 x Pocket Guitar Trainer
AN AMAZING CAUSE
We donate 3% of our net profit to Natural Resources Defense Council: an environmental non-profit works to safeguard the earth - its people, its plants and animals, and the natural systems on which all life depends.